I know some of you are thinking I already know this. I have stated in several recent posts that I have started my marathon training, but I never really said "here I go again!" So, now it feels really official. I am running a marathon on January 1, 2013.
What is even crazier than me running another marathon is the date I registered....March 7th. That is only 4 days after my first marathon and I could still barely walk down the stairs. Apparently I really loved the experience and wanted to do it again. Truth be told, I did love the entire experience because it was uneventful, challenging, rewarding, and fun.
I am much more nervous this time because I have expectations of myself, which I really did not last time. I am slightly not 100% physically and I have no base because of my broken toe. This is not good for big goals. I am working to overcome this with a great attitude...still working on this. I have a great training plan. Now I just have to work it!
I am running the Texas Marathon.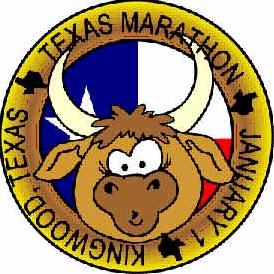 Cute isn't? I picked it because it is small and local. I also loved the humor of the race directors. Marathoners get bigger medals than half finishers...love this!
I also love college football. It is a huge passion for me! I can think of no better way to start the year than to run, crush my goal, and spend the rest of the day watching football!
But that is not the best part. I am running a second marathon only 9 weeks later. Why? I have no idea at this point, but I am am.
This was my first marathon and I loved it. If I don't achieve my big goal on 1/1/13 I have second race to give it a go. After that I think I may stick to half marathons, but who knows?
Anybody want to run with me?